Testimonials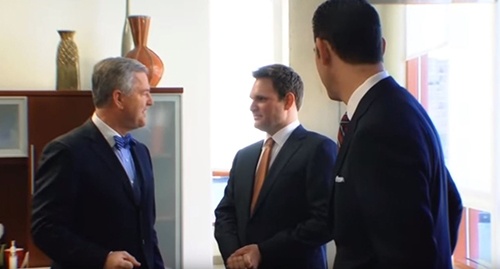 Why Stueve Siegel Hanson?
Not all the big law firm lawyers are at big firms. Our team of trial lawyers, groomed at top law schools and nationally prominent law firms, uses cutting edge legal skill in an environment that lets us focus on winning efficiently and effectively.

Specialty hospital was victim of anti-competitive conspiracy
Proof Prevailed: Stueve Siegel Hanson settled a landmark Sherman Act antitrust lawsuit brought against the largest managed care organizations and hospital systems in Kansas City. Heartland Spine & Specialty Hospital, a new doctor-owned specialty hospital, alleged that five area hospitals and six managed care organizations conspired to shut Heartland out of managed care contracts, and thereby drive it out of business. Heartland alleged that the hospital defendants wanted to avoid competing with specialty hospitals and thereby agreed to lower reimbursement rates in exchange for the managed care organizations' cooperation in excluding specialty hospitals. More than 100 depositions were taken in the case and nearly four million pages of documents were exchanged between the parties. In denying the defendants' motion for summary judgment, the Court found that Heartland had shown sufficient evidence of a plausible economic motive for the conspiracy among defendant hospitals and managed care organizations. The case settled with all 11 defendants. Mary Nan Holley

Multiple continents, many challenges
Stueve Siegel Hanson Wins Settlement for Seaboard Corporation: Approximately six weeks before a three week jury trial was to begin in the Circuit Court of Jackson County, Missouri, Stueve Siegel Hanson settled a lawsuit on behalf of Seaboard Corporation and related entities pending against South Africa's largest shipping company and other related entities. Seaboard alleged multiple causes of action, including fraud, breach of fiduciary duties, misappropriation of corporate opportunities, tortious interference and civil conspiracy based upon actions taken by one of Seaboard's former officers and directors, who attempted to raid Seaboard of the key employees necessary to run Seaboard's international commodity trading and shipping business. Plaintiffs valued their actual damages in this litigation at over $40 million dollars and intended to seek approximately $150 million at trial in actual and punitive damages. Discovery in this lawsuit spanned multiple continents, including two full weeks of depositions in South Africa.

A lifetime of work
Franchisee fights for a just reward: Merton Hersh had operated his franchised employment agency for bookkeepers and accountants successfully for more than 30 years, when the franchisor decided to buy him out. Merton had worked hard to build the franchise and wanted to pass the business on to his daughter, not sell it. Merton came to Stueve Siegel seeking to enforce his rights under the franchise agreement. In Robert Half of Kansas City v. Robert Half International, SSH represented Merton in a long and contentious arbitration process with the franchisor, Robert Half International, a $4 billion company with specialized employment placement businesses around the world. SSH's tenacity and focus resulted in a confidential settlement for Merton and his family.

David vs. Goliath
Stueve Siegel Hanson's legal slingshot stings software pirates for $7 million: Bill Chennault, a technology professor at a small midwestern college, was curious about which stocks were held in various mutual funds as he contemplated retirement. Working nights, he developed an uncanny software program that pinpointed the subtle differences between the myriad holdings of mutual funds and identified areas of overlap - valuable information for stockbrokers and other investors. Working out of his living room, with help from his wife and children, Bill began producing, marketing and sending his licensed software to mail order customers across the country. Positive reviews of Bill's Overlap Inc. software in national trade publications portended success for his small business. Until one day he discovered that his biggest potential customers - the country's largest investment banking firms - were pirating his software program and using it to enhance their own customer service and profits. That's when Bill contacted Stueve Siegel Hanson. Bill Chennault Founder - Overlap Inc.
"Stueve Siegel Hanson 'beats the big guys in court'"
– Modern Healthcare